FaMOUS Course
Implementation and Evaluation of a Family Medicine Obstetrical Point of Care Ultrasound (FaMOUS) Course
Family physicians (FPs) provide the majority of 1st trimester pregnancy care in Canada. For patients, it can be a time of great anticipation, but complications can occur, such as miscarriage, and less often, ectopic pregnancy. When patients in 1st trimester pregnancy present to their FPs with vaginal spotting and/or abdominal cramping, which occur in up to 40% of pregnancies, they are frequently referred to emergency departments to undergo US to exclude ectopic pregnancy.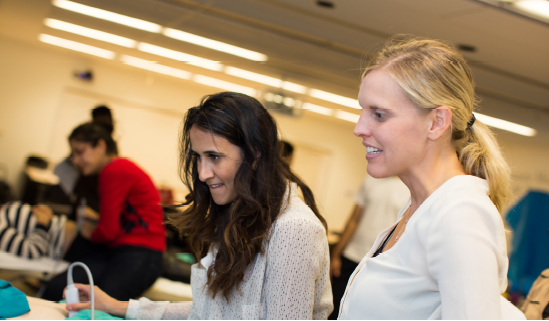 Due to its ease of use, point of care ultrasound (POCUS) has a significant impact on 1st trimester pregnancy care in the ED. A brief, trans-abdominal assessment with a bedside ultrasound (US) can confirm a fetal heart beat by detecting a pregnancy inside the uterus, thus excluding ectopic pregnancy and deferring the need for urgent radiologist-interpreted US. However, POCUS has not been widely adopted by office-based FPs. Until now, no formal training existed for FPs who wished to use POCUS for 1st trimester indications.
In order to facilitate expedited care of pregnant patients and defer ED visits, particularly in resource-limited areas, we developed and implemented a 1st trimester POCUS certification course for FPs caring for pregnant patients in Ontario.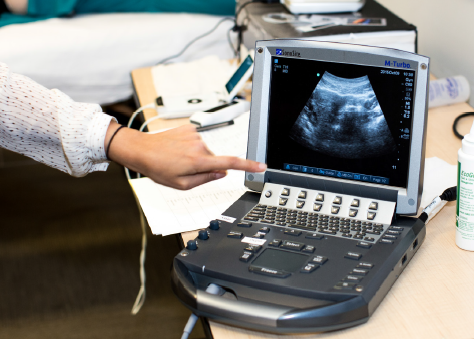 The Family Medicine Obstetrical UltraSound (FaMOUS) course is a two-day didactic and hands-on certification process whereby providers learn basic US techniques and indications for POCUS in uncomplicated, 1st trimester pregnancy. Under the guidance of Canadian Emergency Ultrasound Society (CEUS) Instructors, 13 FPs participated in the inaugural course in October 2015. All of the FPs successfully completed over 70 supervised US scans on pregnant and non-pregnant models.
The course evaluations were excellent, with enthusiastic comments such as, 'exceptional,' 'outstanding instructors,' and 'will change my clinical practice.' However, the most meaningful feedback we received was the FPs' first impressions using US on their own patients, as one FP describes the experience of showing her pregnant patient the fetal heart beat as 'amazing'.