Dr. Bjug Borgundvaag promoted to Full Professor at University of Toronto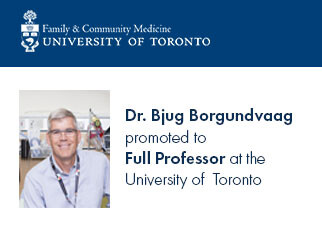 Celebrating DFCM's 2021 Senior Promotions: Full and Associate Professors
May 31, 2021
Our faculty make exceptional contributions to their patients, communities and the discipline of family medicine every day. In a particularly challenging year, eight DFCM faculty members have been recognized for their contributions to family medicine in clinical care, education and research.
This would not have been possible without DFCM's Senior Promotions committee, and Ms. Sarah Letovsky, our Academic Promotions Coordinator, supporting each of these worthy candidates throughout the process.
Join us in celebrating the following faculty members who have been recognized for the incredible work they do and have been promoted to Full Professor or Associate Professor at the University of Toronto. Congratulations to all!
Professor
Dr. Bjug Borgundvaag
 is an emergency physician and the Founding Director of the Schwartz/Reisman Emergency Medicine Institute (SREMI), a partnership between Sinai Health System and North York General Hospital. Beginning his career in the early days of emergency medicine, his professional goal has been to advance the discipline academically. SREMI's 12 Clinician Scientists and Educators develop new knowledge and translate that knowledge into improved emergency department (ED) care for focused patient populations with commonly encountered medical problems. Their work is oriented towards improving ED care within the healthcare system overall. 
A DFCM Clinician Scientist since 2000, Dr Borgundvaag has published nearly 100 peer reviewed manuscripts, and received over $14 million in grant funding. His current research interests relate to addiction and the ED management of alcohol use disorder and alcohol withdrawal syndrome. Dr Borgundvaag has maintained a lifelong interest in pharmacology. As an undergraduate prior to his medical training, he won the Thomas D. Kendrick Gold Medal in Pharmacology and Physiology and went on to complete a PhD in Pharmacology at the University of Toronto under Dr. Susan George. Since 2018 he has Chaired Sinai Health System's Pharmacy and Therapeutics Committee.