SREMI Clinician Scientist Profile
Dr. Catherine Varner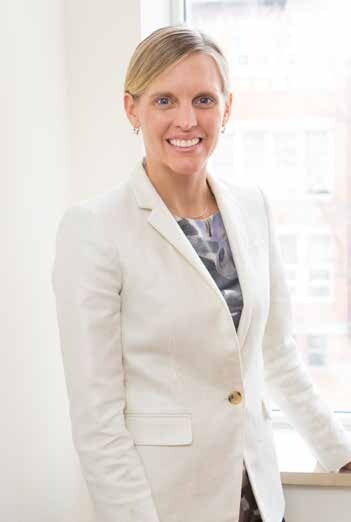 In Canada, emergency departments play a critical role in pregnancy care. In fact, nearly half of women will visit an emergency department during or shortly after pregnancy. SREMI Scientist and Deputy Director Dr. Catherine Varner is regarded as an international expert on the care of pregnant patients in the emergency department, and her program of research and advocacy were featured in a news story in The National Post in July 2022.
Her research has established that four in five people experiencing a miscarriage are cared for in emergency departments in Ontario, and the experiences of patients are often negative. This means emergency department doctors and nurses must be better equipped to provide not only physical care, but emotional and mental health supports for people experiencing pregnancy loss.
As a result, the staff in emergency departments need guidance on how to care for patients facing uncertainty or loss in early pregnancy, and Dr.Varner is leading the way to establish province-wide best practices.
With support from an Innovation Fund Grant, Dr. Varner led a team of providers, patients and researchers in the co-design of a web-based education platform for patients experiencing loss, www.pregnancyed.com. This web-based innovation received the prestigious Education Innovation of the Year Award by the Canadian Association of Emergency Physicians in 2022 and was recently described in a publication in the Canadian Journal of Emergency Medicine.
Building upon this work, Dr. Varner and the SREMI team are thrilled to launch a new program in January 2023 called Virtual Wraparound Care, supported by a generous gift from The Harding Family Foundation. This first of its kind program begins at the point of care in the emergency department and will continue after discharge. Specialized, advanced practice nurses, supervised by Dr. Varner, will support patients through their loss, be immediately available to address their concerns as the loss progresses, and ensure timely follow-up care. 
Dr. Varner also continues to utilize health administrative data housed at the ICES to examine how pregnant patients utilize the emergency department, how these visits influence pregnancy and infant outcomes, and how to improve system-wide pregnancy care. In the last two years, her work has gained national media attention following the publication of these novel reproductive health studies. She and the team at ICES recently described that if a woman had an emergency department visit preconception, she was more likely to experience adverse pregnancy outcomes, particularly if the visits were for cardiovascular or diabetes related indications. Visits also increased the risk to the infant, as women with pre-pregnancy visits were more likely to have stillbirths or infants who died shortly or were very ill after birth. These novel findings were published in JAMA Network Open and described in a news story by the Toronto Sun.  
Dr. Varner also received funding from the Canadian Association of Emergency Physicians to continue this work over the next two years describing the associations between maternal emergency department utilization and infant healthcare utilization in the first year of life. Her next funding applications will be focused on the care of postpartum women in Ontario emergency departments, a patient population whom she and summer research student Jeeventh Kaur have studied locally at Mount Sinai Hospital.
For her national impact in research, education and advocacy, Dr.Varner received her senior promotion to Associate Professor in the Department of Family and Community Medicine at the University of Toronto in June of 2022.