SREMI Clinician Scientist Profile
Dr. Catherine Varner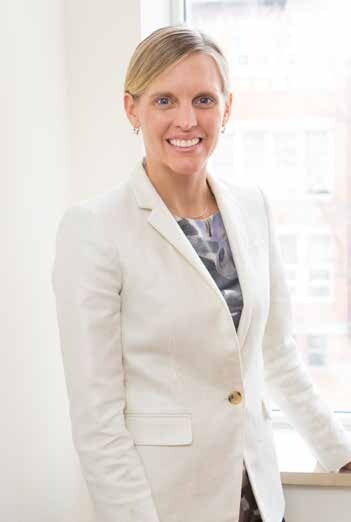 When picturing the interactions they will have with their healthcare team, most pregnant people envision meetings with an obstetrician, a midwife, nurses and ultrasound technicians. Few anticipate a visit to an emergency department. Yet the reality is that emergency departments play a critical role in caring for women during early pregnancy. Sadly, the reasons for this care are often related to early pregnancy loss or miscarriage.
Because of her research, teaching and advocacy, SREMI Scientist and Deputy Director Dr. Catherine Varner is now regarded as an international expert on the care of patients experiencing loss in the emergency department. Her research has established that four in five people experiencing a miscarriage are cared for in emergency departments in Ontario, and the experiences patients have are often negative. This means emergency department doctors and nurses must be better equipped to provide not only physical care, but emotional and mental health supports for people experiencing pregnancy loss.
Dr. Varner, who is leading the way to establish province-wide best practices, states, "We know emergency departments are Canada's number one early pregnancy care providers, and we want to provide women with early pregnancy loss the best possible care."
Alongside collaborators at North York General Hospital, Dr. Varner has led education training sessions for both hospitals' emergency and obstetrical providers and has been an invited speaker at national and international conferences and medical education podcasts on caring for patients facing uncertainty or loss in early pregnancy.
With support from an Innovation Fund Grant, Dr. Varner now leads a team of providers, patients and researchers in the co-design of a web-based education platform for patients experiencing loss. Reflecting on this collaboration, she says, "We listen to patients' experiences of loss, ask them what could have been done better, and if they would like to be partners in our research program. As a result of their partnership and input, we are paving the way for a more patient and family-centred experience of loss."
In 2021 Dr. Varner also continued leading clinical trials in the emergency department. In May she and her SREMI co-investigators Dr. Shelley McLeod, Dr. Bjug Borgundvaag and Cameron Thompson, published one of the largest prospective clinical trials of adult concussion patients to date. The results demonstrated early exercise following concussion did not delay recovery and was chosen as the "Editor in Chief Pick of the Month" in Academic Emergency Medicine and was widely reviewed as 'practice-changing' by critical appraisal sources.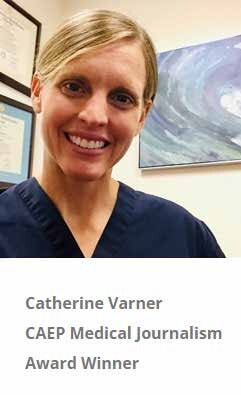 Following the completion of a year-long health journalism program at the Dalla Lana School of Public Health at the University of Toronto in 2020, Dr. Varner has also been a regular contributor to Canadian Medical Association Journal News, Healthy Debate, and The Conversation. She writes stories describing urgent health concerns with viewpoints from frontline workers, such as the exodus of nurses from Canadian hospitals and violence in emergency departments. In 2021, Dr. Varner received the Canadian Association of Emergency Physician's Medical Journalism Award and was the first physician to receive this national recognition. In her new role as Deputy Director of SREMI, Dr. Varner also uses her writing and journalism expertise to promote the accomplishments of SREMI faculty.